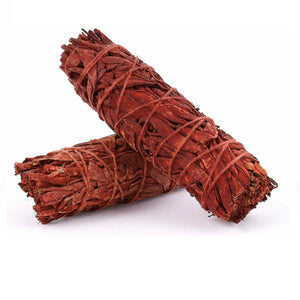 Red Smudge Sage
Sale price Price $8.00 Regular price
Red smudge sage is mountain sage mixed with dragon's blood resin.
Mountain Sage is burned to promote new beginnings, strength, and space clearing.  It collects the negative energy surrounding it and releases it when burned.
Dragons Blood Resin found on various trees found in India and Sumatra. It brings a bit of a woody, spicy scent to the Sage. Used for energy, purification, magical potency, banishing negative influences, banishing bad habits, removing negativity, and bringing good luck. The resin adds to the clearing benefits of Sage while it's believed to also provide protection & bring blessings in love & money! Just burn in a smudge pot & let the smoke of this Red Sage do the magic.

These bundles average approximately 4 inches and can be used many times. Just tamp out after each use.