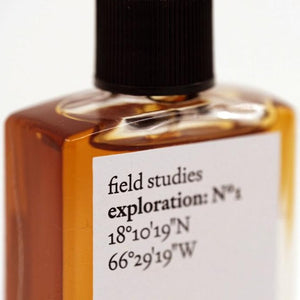 Exploration: Nº1 Perfume
Sale price Price $121.00 Regular price
Inspired by the ridge - the Toro Negro Forest - but maybe to the end user is the library, or the memory of physical contact. This and all our future compositions are so open to interpretation and guided by experiences of the wearer and even the spectator.
The formula is simple and there lays its complexity; its timeless therefore ageless and, for me, genderless. In this case, the notes of fossilized amber, musk, cedar wood and amber core spoke to me. Exploration: N1 belongs to the woody family with a hint of an animalic relative. 
Fossilized Amber Oil is extracted from 35 million year old Himalayan fossilized tree resin. Unlike the oils from living plants, there is no essential oil that can be directly obtained from the fossilized resin. Instead, the oil comes from a process called "dry distillation" whereby the Amber resin is processed over high heat until an oily substance is obtained.
The powdered wood (sawdust) from sawmills where the wood is cut for lumber is a by-product collected for distillation of this aromatic oil.
*NON RETURNABLE*
Notes
Base Note
Fossilized Amber: Woody, smoky, leathery with light pine and balsamic under notes. Dry distilled in China and extracted from 35 million year old Himalayan fossilized tree resin. While White Musk adds sophistication, romance, sensuality, mystery and exoticism, & Cedarwood, with very good tenacity, says genderless all over. 
Middle Note
Ambercore - Japanese amber gives a soft, sweet, delicate and natural richness to the formula.
Our blend is hand diluted in organic fractionated coconut oil - an organic stable carrier for essential oils and liquid, non-alcoholic perfumes.
Transform the way you apply our perfume, on the go, by changing the pipette and in its place, introduce the rollerball. View more here.
Ingredients
Fossilized Amber Oil, Organic Sunflower Oil, Juniperus virginiana,  Ambrettolide, Exaltolide Total, Velvione, Galaxolide 50% IPM, Ethylene Brassylate, Amber Butanol,  Capric Triglyceride (organic fractionated coconut oil)

Ingredient lists may change or vary from time to time. Some individuals may be allergic or sensitive to certain ingredients in fragrances or other products, even if those ingredients are safe for most.