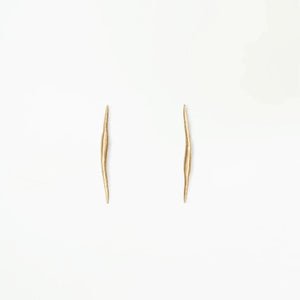 Stick Wisp Earrings (Single)
Sale price Price $167.00 Regular price
The Wisp Collection is a delicate perspective on WWAKE's Gestures Collection.
This elongated mini wisp of gold is the perfect everyday accent for your ear. Wear alone or make a playful composition with other wisp shapes.
Material:
10k solid gold
Length 15mm, Width 1mm
This piece is handmade in New York, using 100% post-consumer recycled gold.
Care:
10k gold can darken with wear, depending on body chemistry. This is most common on the inside of rings or on earrings but it's easy to fix! A polishing cloth usually will clear this right up but anything particularly stubborn can be taken to a reputable jeweler to be used in an ultrasonic cleanser.