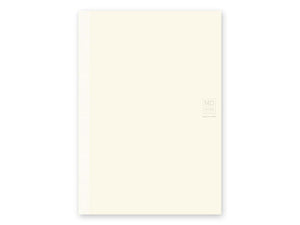 MD Notebook A4
Sale price Price $28.00 Regular price
The Midori MD Notebook is "simplicity itself." Made in Japan, the notebook was designed with a minimalist style. The notebook is unadorned - plain paper covers and exposed mesh spine reinforcement mean your attention goes immediately to the quality feel of the paper. 
The pages are thread-bound, which gives superior strength and also allows the pages to lie perfectly flat. A bookmark and labeling stickers are included.
MD Paper is thin and absolutely smooth, and ideally suited to writing with all sorts of writing instruments, from pencils to fountain pens. The paper resists feathering, bleed-through, and wrinkling.
The blank notebook is the ideal format for writing down ideas freely as they come to you, or even using a double page as a canvas for your thoughts.
Details:
A4 size 10.8" x 8.3" | 275 mm x 210 mm
176 pages (88 sheets) BLANK
Midori MD paper 80 gsm
Made in Japan