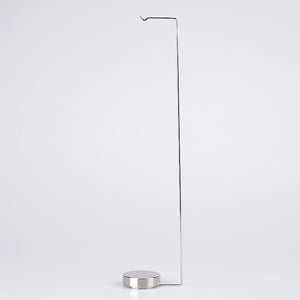 Wind Chime Holder
Sale price Price $110.00 Regular price
A free-standing tripod that allows you to hang wind chimes easily.

No matter what style of home living space, the simple wind chime frame can be perfectly controlled. When assembling, you only need to insert the hanger into the base, and the detachable design makes storage more convenient.

When using, please adjust the length of the hanging wire of the wind chime according to the height.

Details:

・Product size: H422 x φ60 (mm)

・Weight: 550g (including packaging)

・Material: Stainless Steel

・Place of Origin: Toyama Prefecture, Japan

・The product does not contain wind chimes

Care:

• Do not use metallic brighteners and other items.

• When using, please insert the hanger into the base for use.

• The accessories are detachable and easy to store.

• After use, wipe off dust or water droplets with a soft cloth.

• When there is obvious dirt, please wash it with a neutral kitchen detergent, or wipe it with a slightly damp sponge or soft cloth;

After washing, please clean again with a clean soft cloth to avoid lotion residue.

 

About the brand:


NOUSAKU is an innovative maker of metal craft from Takaoka - the center of the Japanese casting industry. The company is famous for its wind bells, tableware and home decoration.

NOUSAKU products are displayed in the New York MOMA. They also are used by chefs of top restaurants, who particularly care about design and quality.