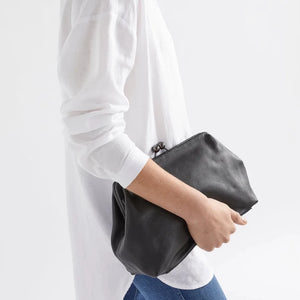 Ulla Clutch Bag
Sale price Price $332.00 Regular price
Ulla Clutch Bag, crafted from soft leather, offers stylish versatility with a vintage-style clip frame and adjustable/detachable crossbody strap. Enjoy the convenience of an internal zip pocket and patch pocket. Perfect for those seeking a small crossbody or clutch bag.
Size: 
Height: 20 cm ≈ 7.87 inches Width: 30 cm ≈ 11.81 inches Depth: 10 cm ≈ 3.94 inches
Strap Drop Length: Minimum: 31 cm ≈ 12.20 inches Maximum: 65 cm ≈ 25.59 inches
Crafted from: Lamb Leather
The leather is sustainably sourced, using animal hides that have been tanned to preserve and soften. The selection is based on properties specific to the intended use. Leather is easy to maintain and can be repaired, becoming more beautiful with age and acquiring a unique patina. Investing in quality leather goods is an eco-friendly choice that supports the slow fashion ethos, and it can be recycled or upcycled when its lifecycle ends. None of the tanning processes involve Chromium VI.