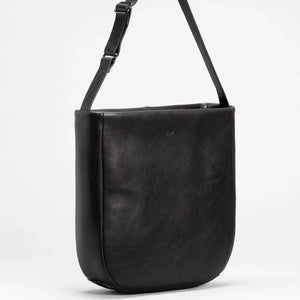 Sirki Crossbody Bag
Sale price Price $368.00 Regular price
The Sirki Crossbody Bag is a roomier style, featuring a versatile, adjustable strap enabling you to transition comfortably between a cross-body and tote look. Boasting a minimalist 14" (40cm) laptop-fitting design with a zip enclosure for all your essentials, this bag features a curved base and two internal pockets. Perfect for work, travel, or everyday use, this refined crossbody bag is available in two neutral colors.
Crafted from: Buffalo Leather
The leather is sustainably sourced, using animal hides that have been tanned to preserve and soften. The selection is based on properties specific to the intended use. Leather is easy to maintain and can be repaired, becoming more beautiful with age and acquiring a unique patina. Investing in quality leather goods is an eco-friendly choice that supports the slow fashion ethos, and it can be recycled or upcycled when its lifecycle ends. None of the tanning processes involve Chromium VI.