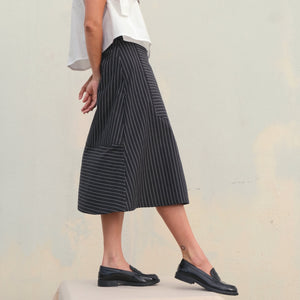 Sol Skirt
Sale price Price £184.00 Regular price
Introducing the Sol skirt – effortlessly merges classic elegance with contemporary flair. This A-line skirt boasts a striking touch with its unique asymmetrical panel placement, setting it apart. Meticulously crafted from a luxurious blend of crisp and soft Cotton/Ramie sourced all the way from Japan, exuding quality and comfort in equal measure.

The wrap-style closure not only adds a touch of versatility but also ensures a customized fit that complements your individual style.

What's more, each Sol skirt is ethically produced right here in Puerto Rico, reflecting our commitment to sustainable and responsible fashion practices. 
x-small / small: fits waist size 0 - 2
small / med: fits waist size 2 - 6
med / large: fits waist size 6 - 8