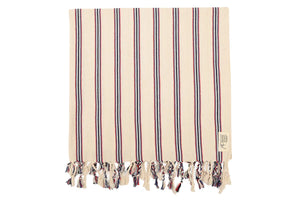 Mute Towel
Sale price Price £52.00 Regular price
Mute is inspired by the minimal lines of the contemporary era and the earthy texture of the Mediterranean.
Handwoven on century old looms and made to last a lifetime.
Luxurious fast drying organic cotton & linen blend. Wide red & navy stripes on a natural fabric with fringes.
Perfect companion at home, on a sunny beach escape or a picnic under the trees.
DETAILS
100 X 200 cm.
70% Linen + 30% Cotton
Due to the handmade process, there might be slight variations which makes each piece unique.
CARE
Gentle wash only and tumble dry low or lay flat to dry. No fabric softener or bleach, our textiles get softer and more absorbent with each wash.
About the brand:
Mizar & Alcor was founded in the summer of 2016 on Turkey's Turquoise Coast to represent the union of East and West as well as the integration of tradition into modern life.
Their vision is to embrace forgotten skills from artisanal tradition, combining them with contemporary design inspired by the Mediterranean and African cultures.
Mizar & Alcor works hand in hand with local artisans who remain faithful to a time-honored process. Their collection combines elegance and functionality with ethical production to support local economies as a welcome change to mass-production. It praises the beauty of the unique and the long story of handmade items.