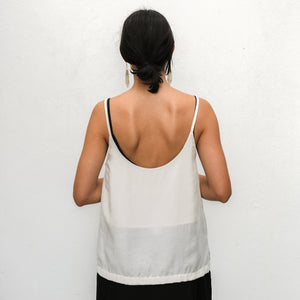 Slip Top
Sale price Price £112.00 Regular price
The LUCA Slip Top is a staple in our wardrobe. Our take in the slip top stands as a building block for a sustainable wardrobe. This piece is made from exceptionally soft Japanese modal, easy to care for and live in everyday of the week.
What is Modal? 
Modal rayon fabric, also known as High Wet Modulus (HWM) rayon, was first developed in Japan (circa 1950) as an alternative to silk. Modal is very similar to regular viscose rayon. However, it is also stronger, more breathable, and has an ability to withstand excessive moisture.
Modal is a "semi-synthetic" fabric that is commonly combined with other fibers to create a soft and long-lasting material. Its silky-smooth feel makes it one of the more luxurious fabrics.