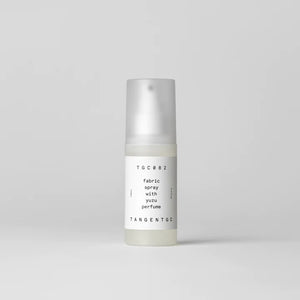 TGC082 Yuzu Fabric Spray
Sale price Price $34.00 Regular price
TGC082 yuzu fabric spray neutralizes unwanted odours. It is harmless to you but defeats the bacteria generating unwanted odours. Our spray contains no harsh chemicals – we have harnessed nature´s own solutions and made them work for you. Because of its kind nature, you can use it anywhere. In shoes, on old coats, sportswear and second hand items. Only your imagination sets boundaries for the use. 

Organic and vegan.
Cruelty and fossil free.
Made in Sweden.

User instructions
Before use, test your spray on a small, inconspicuous area to see if the fabric is sensitive to water stains.

Volume
100 ml.
Ingredients
Nonionic Surfactants 1-5 %, Anionic Surfactants 1-5 %, Perfume <1 %, Limonene, Hexyl Cinnamal, Potassium Sorbate.