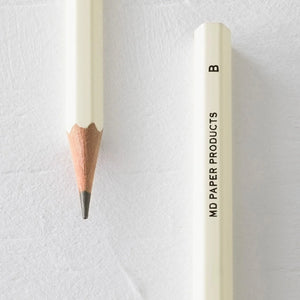 MD Pencil
Sale price Price $3.00 Regular price
Bringing the MD Notebook experience to your fingertips.

The same soft, delicate coloring of MD Paper, in pencil form.
The MD Pencil uses the same colors as MD Paper for its standard honeycomb-shaped body that is easy to hold with the thumb, index finger and middle finger.
With an understated yet unique design, the MD Pencil extends the MD Notebook bring the experience to your fingertips.
When we designed the MD Pencil, we closely examined the writing and drawing process and created a pencil that provides everything you need.
With a no-frills design in the same color as MD Paper, your attention is drawn straight to the lead.
The popular B lead is used for the MD Pencil, providing a balance between soft and hard that you'll never tire of.
With this carefully designed pencil as a companion, nothing will stand in the way of those great ideas for your writing or art.